Premium Performance SUV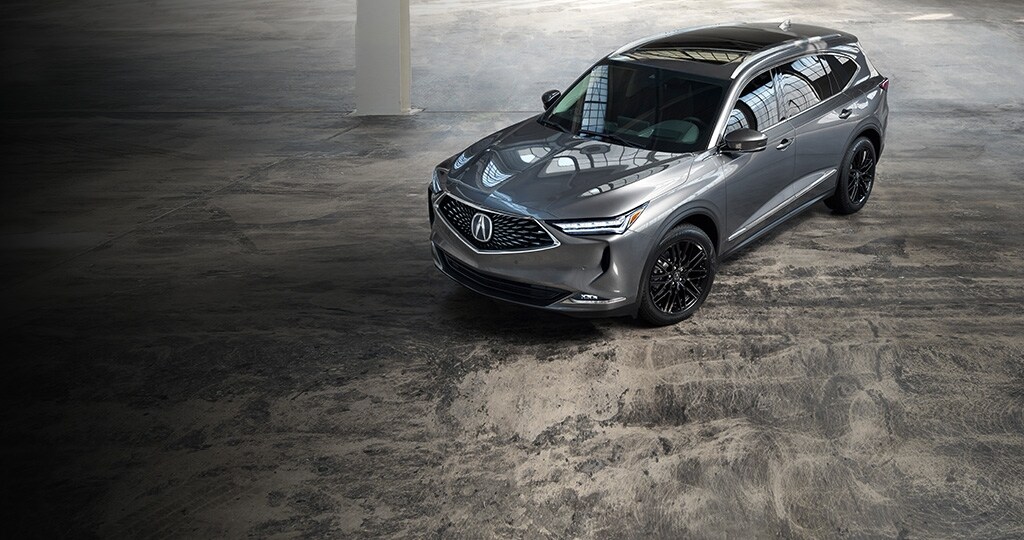 Experience True Automotive Innovation and Excellence: The 2023 Acura MDX
The Acura brand continually strives to provide drivers with a unique and thrilling driving experience, something the 2023 Acura MDX showcases. This freshly redesigned Acura model will reinvigorate your passion for driving with its many upgrades. From eye-catching styling updates to awe-inspiring performance enhancements, there are many improvements to this iconic Acura SUV that you don't want to miss out on.
To give you a better idea of what to expect with the 2023 Acura MDX, Hendrick Acura Southpoint is highlighting some of the bright spots of this model. Whether you choose the base MDX or opt for one of the many packages, you'll love every second you spend behind the wheel of this new Acura SUV.
Get on our list to receive updates on the new MDX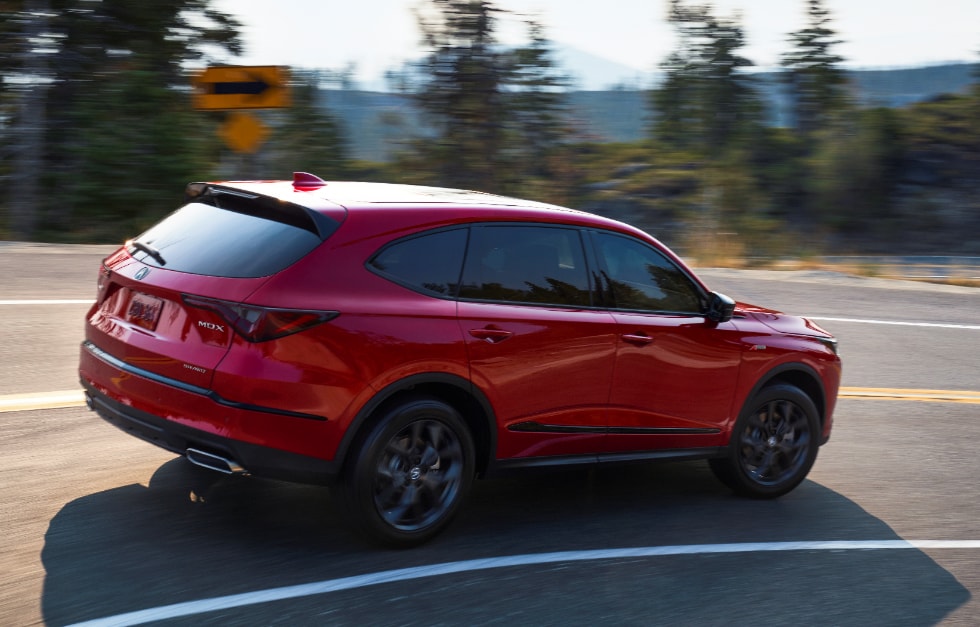 Interior Build and Features
Once you and your passengers enter the 2023 Acura MDX, you'll be blown away by how attractive the cabin is. Acura refreshed the interior, making it feel more sophisticated and even futuristic. Throughout the cabin are premium materials that add to the luxurious vibe created. Plus, you'll have six different interior color schemes to choose from, allowing you to customize the cabin to fit your unique style and tastes.
On top of being stunningly beautiful, the interior also boasts several high-end features. For instance, you'll be able to enjoy the natural light and upward views through the now-standard panoramic moonroof. Everyone will also stay comfortable as Acura increased overall interior space for the 2023 MDX. The third row comes with much more legroom, making it suitable for adults or taller kids. And the front Acura sports seats with 12-way adjustments will ensure you find the right seating position.
Exterior Build and Features
As you roam around town in the 2023 Acura MDX, don't be surprised if you notice bystanders staring at your ride as you pass. With this refreshment came a longer and wider build, giving the new MDX a more commanding and aggressive stance on the road. The lengthened hood line with sharp creases and the LED headlights will ensure that everyone ahead of you knows they're about to be passed by automotive excellence.
The general three-dimensional surface details make the 2023 Acura MDX exterior look futuristic and hints at the SUV's dynamic performance. The best part is that you can also customize the exterior color to match your style and preferences as there are two standard color finishes and six premium options. So, if you want a vehicle that's as stunning inside as it is out, choose the 2023 Acura MDX.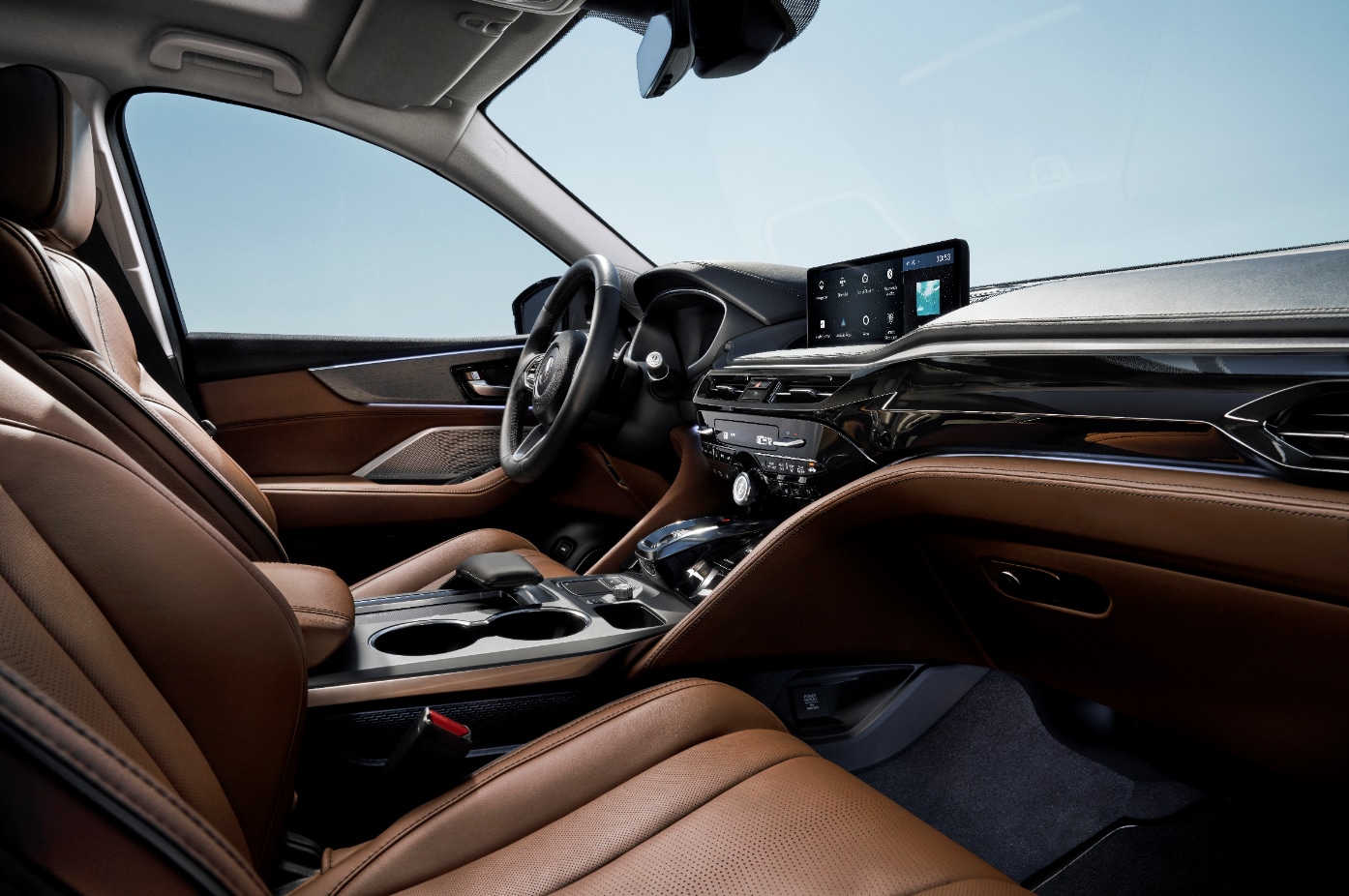 Performance
Acura also put a lot of thought into performance upgrades for this new model. For starters, powering the 2023 Acura MDX is a robust 3.5-liter V6 engine that produces ample energy to get this SUV up to speed with ease. You can also select between the Snow, Comfort, Normal, Sport, and Individual driving modes depending on the specific driving scenario you're in at that moment.
While the 2023 Acura MDX is a luxury SUV, it drives and handles like a sports sedan, putting you in control of the road ahead while adding excitement to your daily travels. One improvement is the first-ever double-wishbone suspension. This new system provides precision handling by increasing grip on the road while also delivering a smooth ride with enough vertical freedom to move with the changing road surfaces.
Technology and Safety
Another bright spot for the 2023 Acura MDX is that it comes loaded with the latest infotainment and safety technology to improve your driving experiences even more. Inside, you'll find a 12.3-inch digital instrument panel and a 12.3-inch ultra-wide HD center display. The infotainment system comes with features like Amazon Alexa, Apple CarPlay, Android Auto, and more.
There are also many state-of-the-art safety features that work to keep you and your passengers safe while exploring. These are some of the included safety technologies for the 2022 Acura MDX:
Traffic Jam Assist
Road-Departure Mitigation
Pedestrian Detection
Driver Attention Monitor
For more information on the 2023 Acura MDX and why it's the right luxury SUV for you, visit Hendrick Acura Southpoint to talk with one of our friendly team members today.