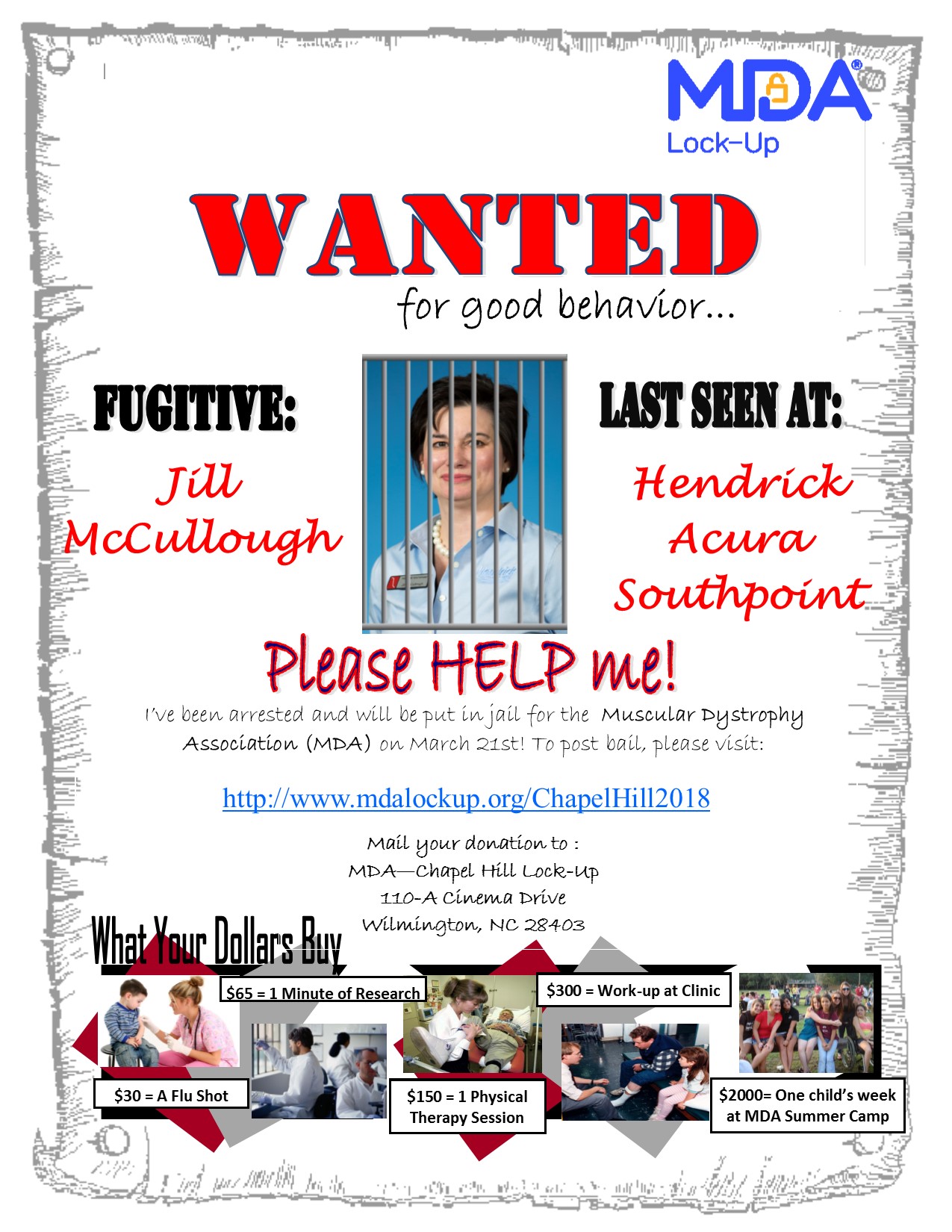 Many of us wake up each day taking for granted that our legs will not fail us when we put our feet on the ground to get out of bed. We do not worry about the pain of taking a breath or even communicating through speech, however, there are people, adults, and children, who do not have this luxury because they live with a form of muscular dystrophy.

Our Communications Director, Jill McCullough has agreed to be locked up in order to raise bail money to get out of MDA Jail. Your tax-deductible donation is for local children and adults living with one of the 43 neuromuscular diseases covered by the Muscular Dystrophy Association in Chapel Hill. Our goal is $4000. Below is a list of services this money will go towards.
We have 6 days to reach out goal and hope you will help with a donation. Visit our personal MDA LockUp page to make your donation.

Your money will go to the listed items below and it is tax deductible:
$30 Flu Shot

$100 One support group session

$150 One occupational, physical, respiratory or speech therapy consultation

$300 Professional fees related to initial diagnostic work-up at MDA clinic

$500 Annual repairs of durable medical equipment

$2000 One week at MDA Summer Camp for one child
We here at Hendrick Acura Southpoint, appreciate our community and we appreciate giving back to those who need help. Join our efforts and make a donation to help provide the services above those with Muscular Dystrophy.

#MDA #MDALockUp #MuscularDystrophy #MDAChapelHill # HendrickAcuraSouthpoint #PerformanceAcura #CommunityHelpers #CommunityInvolvement #WeLoveOurCommunity #MDADonations #MDAResearch #Southpoint