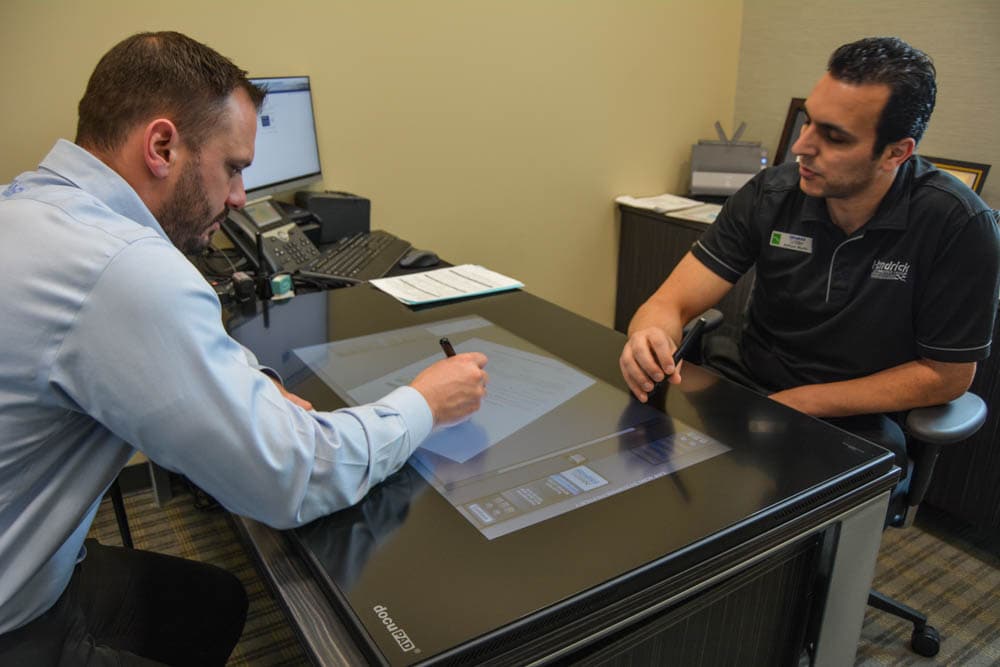 Gone are the days of spending an entire day at the dealership negotiating and signing paperwork for your new car. Consumers are educated and aware of the inventory available to them and the price associated with that inventory. Online search and shopping has reduced car-buying stress by empowering the consumer. Hendrick Acura Southpoint has reduced time in the dealership by adding DocuPads to the desk of our Business Managers to reduce bulky papers for the consumer to take home.
What is DocuPad and how does it work?
DocuPad is a large tablet affixed to the desk and creates a streamlined buying experience for the customer and allows the finance paperwork to be signed electronically.
DocuPad is great for several reasons
DocuPad reduces the amount of paper used, which makes it ECO-friendly.

DocuPad saves time because finance documents are stored making the process quick and easy.

DocuPads even have games stored to help occupy children during the car buying process.
After the client has electronically signed the paperwork, they are given a usb drive loaded with their important purchase paperwork so they can view from any computer.
Acura is Precision Crafted Performance and that doesn't stop with the vehicle, it is in the heart of the dealership from Sales and Service and we want the customer experience to be nothing less than those three words, Precision Crafted Performance.
At Hendrick Acura Southpoint, we make it easy to find the Acura that suits our client's lifestyles with outstanding Financing or Leasing incentives. Visit our website to learn more about our current financing and leasing offers available.
One last thing, we have moved our dealership from Chapel Hill to Southpoint in Durham. The name has changed from Performance Acura to Hendrick Acura Southpoint to align ourselves with our Hendrick Owned brand. Our new address is 212 Kentington Dr, Durham, NC 27713.
To schedule your On Demand Test Drive contact us at 888-742-6227.
#HendrickAcuraSouthpoint #DocuPadAcura #ECOFriendlyAcura #AcuraHybrid #SaveTreesBuyACar #PrecisionCraftedPerformance #AcuraSales #AcuraFinance #AcuraLease #AcuraRaleigh #AcuraDurham #AcuraChapelHill #AcuraTriangle #PerformanceAcura